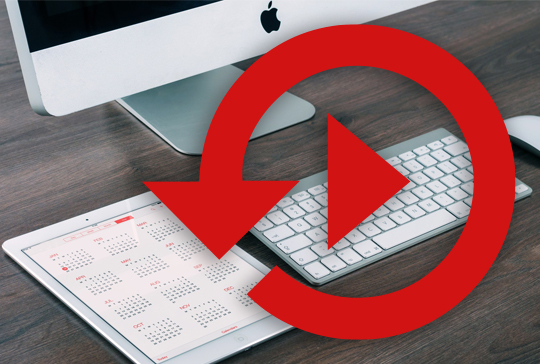 2021 – Let's not repeat 2020!
---
The last thing any of us want to do is to replay 2020 with all the year's ups, downs and uncertainties. This past year has been crazy to say the least, for all of us personally and professionally. We had to learn to work from home and manage our time appropriately and interact with our peers on new and different platforms. We all managed to figure out the Zoom calls and conference calls – and putting a sticky note over the camera of our laptops so no one could see us!
The real challenge that most of us had to face was how to keep our businesses running and functioning as normal as possible with all the changes and limitations the pandemic imposed upon us. We have seen many changes to our business infrastructures and most have been positive, changes such as acceleration of our voice and collaboration tools to the cloud and team collaboration tools have never been more relevant and important as they are today. We have seen many businesses shutter their commercial space as their workforce has moved to a WFH scenario and will ultimately stay in that mode for the foreseeable future. This aspect of the pandemic is not terrible as it has allowed many businesses to redirect costly expenditures for real estate to be used to transform and grow their businesses as a work from anywhere environment. Transformations such as a move to a private or public cloud or even to a colocation facility have been underway at an accelerated pace during the second half of this year and this will continue into 2021. It makes sense to re-evaluate current infrastructure being used today and to look at moving as much as possible to a managed hosting provider or cloud provider of some type to alleviate large capital costs and also to help improve availability and durability of systems that run your business.
As winter sets in and we all start to spend more time indoors for the next 3-5 months, we do not want to worry about how our business infrastructure is running and the serviceability needs of that equipment. The time is now to begin moving that on premise equipment to a more agile and protected space (colocation, managed hosting, public cloud ...). It goes without saying that if you do nothing else for the end of year 2020 and the beginning of 2021, at least get your disaster recovery and business continuity plans in place and up to date.
I would recommend that if you are not sure what to do with your business systems, start with assessing your business continuity plans, what will you do in the event of a failure of your current systems? Do you have a DR plan to recover and run your business critical systems to keep your workforce productive, active and bringing in revenue? If not, doing a self-assessment is a great way to start and even better to get an outside entity to look at your environment and give an unbiased agnostic opinion of the landscape. and potential solutions for areas of needed attention.
OK, so back to the focus of this article, let's not replay what happened to us in 2020 and the mad scramble we had to do overnight to keep our businesses running. We have learned some valuable lessons! Like moving our workforce to home (or work from anywhere) and keeping them productive. It wasn't all successful, but we did learn what tools and platforms worked and what didn't. As the 2020 year wraps up, we need to continue to execute on plans to move to cloud solutions and colocation solutions as they make sense. We need to involve all aspects of business in the planning for these moves, everyone from upper management to marketing to sales and engineering need to give input on what they need to run the business so intelligent decisions can be made. If businesses plan effectively, they can avoid costly mistakes with regards to their infrastructure. Start with current assessments and engage the proper resources outside your company if need be to help. Spending money on an assessment (cloud, network, security, voice ...) will pay itself back as an agnostic look at your business will reveal areas in need of change or improvement that can be overlooked when you are running your day-to-day operations.
As we are on the precipice of 5G for business and all the wonderful opportunities it will bring, we need to plan for it. 5G will bring speed and agility to backup solutions, and possibly reach remote locations previously were isolated. 5G will also allow for more affordable solutions for redundant network needs that were previously unavailable. Another shift in business will be the continued growth of IOT devices and the voluminous amounts of data they create. IOT along with other business processes, for manufacturing and health care as examples, will continue to push the need for edge compute, storage and data analysis. Businesses have always looked for cheaper real estate and more cost-effective workforces which typically drives them to remote out of the way locations. Now that technologies like 5G and edge compute get more cost effective and deployable to remote areas, businesses will be able to flourish and grow outside metropolitan areas that had them tied to services in the past.
So, in conclusion, I believe that yes, the year 2020 has been a challenge for sure, but there has been some good that has come out of it from a technology viewpoint. We have seen our voice system providers step up to the plate in terms of features, functions and costs. We have also seen our voice providers bring their Contact Center as a Service (CCaaS) and Contact Platform as a Service (CPaaS) to the forefront of our workspace. I believe that business will continue their moves toward cloud compute usage and smarter datacenter solutions in general (COLO, Managed Hosting, Public/Private Cloud, Hybrid ...) as it will save them money and provide a more durable solution to run their businesses.
This blog article was contributed by Cloud Infrastructure Architect and TBI Tech Guru, Jim Demetrius. Jim brings over 30 years of experience and has worked with fortune 100 companies to provide IT solutions that allow them to grow their business securely and cost effectively. He's an accomplished Solution Architect working in all aspects of the IT lifecycle for business; solutions of focus include complex managed hosting, cloud, colocation and hybrid computing. Request a consultation to get free advice from Jim and have any questions answered.