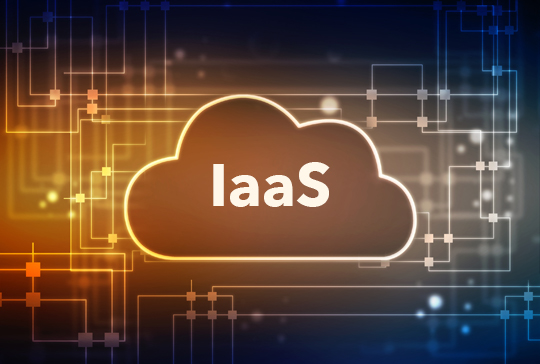 3 Things to Know about IaaS
---
The IaaS market is projected to post a CAGR of 31.45% between 2020-2024. (Market Reports World)
Enterprise technology reached a milestone as the decade came to an end: for the first time, enterprises spent more on cloud infrastructure services annually than on data center hardware and software (
Synergy Research Group
). In fact, when the decade began, total spending on cloud infrastructure services was near zero; in 2019, that number reach nearly $100B!
Infrastructure as a service (IaaS) refers to cloud-based infrastructure resources that are delivered to organizations via virtualization technology to help build and manage their servers, network, operating systems, and data storage. AWS (Amazon Web Services), Microsoft Azure and GCE (Google Compute Engine) are all examples of IaaS.
"IaaS gives users cloud-based alternatives to on-premise infrastructure, so businesses can avoid investing in expensive on-site resources," Sridhar Vasudevan, Senior Principal of Cloud and Data Center Strategies at Insight Enterprises notes. According to Vasudevan, customers can provision infrastructure resources for compute demands, storage and data repositories, networks, security services, and other fundamental utility services such as backup.
Gartner forecasts IaaS as high growth in 2020 due largely to data center consolidations.
1. Data Center Workloads are Moving to the Cloud
In 2020, Gartner is forecasting that the high growth rate of IaaS—17% for the year—is due in large part to data center consolidations. Why? It boils down to network performance—or lack thereof—which is the number one reason workloads are shifting to either colocation facilities or the cloud. In fact, a recent INAP report found that 9 out of 10 organizations with on-prem data centers will be moving at least some of their workloads to the cloud by 2022.
The survey also reported that only 25% of IT professionals would grade their company's current infrastructure as an "A" and those that did had a significantly smaller portion of their workload on-premise (on average, 30%).
Moving data centers to the cloud or other off-premise colocation facility frees up a significant portion of time for IT teams, allowing them to focus on more mission-critical and/or revenue-driving tasks, such as working toward improvements to their products and/or application levels of their IT security stacks.
Public cloud IaaS workloads will experience 60% fewer security incidents than traditional data centers by 2020. (Gartner)
2. The Debate on Cloud Security
Cybersecurity is costly, and not every business can afford to implement it on their own; large cloud vendors offer top-notch security and multilayered defense mechanisms to their customers, typically without the hefty price tag of more customized solutions.
Naturally, the security of any cloud-based service depends on the security of the provider; these providers have recognized this and therefore will typically keep their infrastructures well-patched and properly configured, thus reducing the risk of exploitable vulnerabilities that an individual organization might face on a virtual machine (or container).
Unfortunately, while the public cloud is typically secure, nothing is guaranteed, as evidenced by the recent Capital One breach in AWS—the first major breach of the public cloud. Both Amazon and Capital One, however, have stressed that "this type of vulnerability is not specific to the cloud."
Despite the concerns about the security of the public cloud, Capital One's breach "doesn't prove the cloud is wrong," says Glenn O'Donnell, a Forrester VP. "What it does prove is you have to have the right controls in place from a security and governance perspective."
Ed Amoroso, former Chief Security Officer for AT&T, agrees that for most businesses, off-loading infrastructure to the cloud remains safer than managing one's own: "You have to compare not against perfect but against on premises."
And while some IaaS providers already boast advanced security features, it is critical to examine what specific native services an IaaS provider offers as well as the conditions and guarantees of these offerings. Additionally, it is imperative to recognize that while cloud may be the safer option, that does not preclude the need for organizations to implement robust and rigorous security protocols. Gartner predicts that through 2022, at least 95% of security failures in the cloud will be the result of user error rather than on the side of the provider.
Cost optimization is the primary reason for 47% of enterprises' cloud migration. (Opsramp, Skyhighnetworks, Directive)
3. IaaS + Cost Optimization = Long-term ROI
One of the best (and probably well-known) benefits of IaaS is that it offers organizations unlimited scalability and lower IT costs by only paying for the resources that are used. Cloud cost optimization is the process of reducing overall cloud spend by identifying mismanaged resources, eliminating waste, reserving capacity for higher discounts, and right-sizing computing services to scale.
This allows for a company to transition to an off-premise, IaaS provider and potentially see both short-term as well as long-term ROIs. It also enables new businesses to scale investments in infrastructure resources based on what their current usage/needs rather than making large, up-front capital investments based largely on guesswork.
Further, the average savings from cloud migration comes in at around 15% of all IT spending, with SMBs benefitting the most—they spend nearly 40% less using IaaS platforms over traditional on-prem solutions.
Best practices for cloud cost optimization include:
Identifying and removing unused or unattached resources
Identifying and consolidating idle resources
Utilizing heatmaps to establish peaks and valleys in demand

Leverage automation to schedule instances to start & stop

Right sizing computing services to achieve peak performance from resources
Why IaaS is Important Now
Creating more agile environments through IaaS deployment should be a high priority for 2020. More than likely, the way current networks are architected can't adequately account for cloud apps or remote employee productivity. Dramatic improvements in cloud infrastructure capabilities continue to lead to new and more efficient ways to process and analyze data.
Understanding your infrastructure, performance issues, productivity levels and cloud-first strategies will help to create a scalable digital transformation plan. The flexibility that an IaaS solution offers helps to mitigate unnecessary spend both now and in the future.
Check out three real-world examples of IaaS benefiting SMBs.
If you're still not entirely comfortable evaluating and deploying IaaS and other cloud-based solutions, request a free consultation from Tech Guidance. Our solution engineers and subject matter experts offer completely complimentary insight into various applications and strategies to meet your business objectives and IT projects.