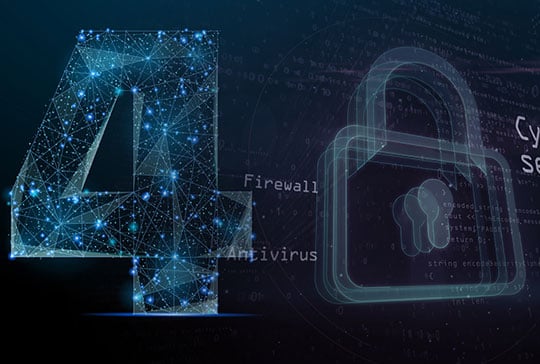 4 Tests to Find Cybersecurity Weaknesses in Your Business
---
Now into 2020, the cybersecurity threats continue to come . And it is not just the traditional attacks businesses need to be afraid of - it is the newer variants. No matter which industry or company size, everybody is at risk.
A lot of these emerging threats stem from web applications being created and deployed. Very often, the IT or project management team are under enormous pressure to deliver a product under budget and ahead of schedule. Because of this, adequate security measures can be overlooked or missed. Or if your business outsourced the project, the third party could have not properly tested for vulnerabilities or weaknesses.
It is quite possible that a backdoor (or several) could be left open for risk.
How Grave Is the Threat?
Here are some stats that you need to know -
75% of all network breaches are caused by security leaks in a web application - an alarming 63% of web apps are never even tested at all
Each web application created has an average of at least 33 security vulnerabilities
95% of all web applications use JavaScript and HTML5 – source code languages very easily accessed, viewed and manipulated by cyber attackers
46% of all websites and their related applications are ranked as high risk for potential cyber attackers
SQL Injection attacks (where malicious code is injected into a database) accounts for a majority of attacks at 38%
Four Tests to Check for Security Weaknesses
Business can perform a few tests to make sure that their web applications are safe -
The Dynamic Application Security Test (DAST)
This test is an automated process and best for web applications used internally, and those that are subject to regular assessments with regulatory and federal compliance laws.
Static Application Security Test (SAST)
This test uses a combination of both automated and manual testing procedures, and is best suited for web applications that are still used in-house and do not have to be released into a production environment. It enables IT to scan more efficiently and effectively for any weaknesses that can be hidden in the source code.
Runtime Application Self Protection (RASP)
This is a more specialized kind test so that any kind of security gaps, weaknesses, or vulnerabilities can be discovered and remedied while the web application is being developed.
Penetration Testing (Pen Testing)
Compared to other tests, penetration or pen testing offers a very comprehensive view of any security vulnerabilities that reside in web applications and underlying source code. This is type of test is recommended when releasing a product to a client. It makes use of a combination of both manual tests and automated tests, and also various teams in order to simulate real world attacks from different perspectives.
Let's discuss pen testing in more detail, especially how it relates to the development of the source code.
Why You Need Pen Testing
It is very important to not wait until you are ready to release an application system or already developed a source code to pen test. It should be done throughout the process. Here is why this is so important -
Stay one step ahead of the automated hacking tools.
Given just about how accessible everything is on the internet these days, there is a plethora of online hacking tools available to even the most amateur of hackers to potentially break into applications or source code. By pen testing at different phases and continuing to do so even after the application is released will help protect against these hacking tools.
Fix vulnerabilities.
Just about every product or service out there has some security vulnerabilities and weaknesses. By testing ahead of time, you can fix issues before moving onto the next step. This will help ensure a much smoother transition to the production environment and hopefully deliver the project on time. If you wait until the very last minute to pen test and a lot of vulnerabilities are found, this will definitely delay delivery, thus incurring extra expenses and frustration.
Detect existing security vulnerabilities.
What if you depend on a third party to test security and make sure your company is safe before deploying an application? It is your responsibility to make sure that everything is tested thoroughly to find any security gaps and weaknesses that exist. These should be remedied immediately. It is also important that you keep pen testing software applications on a regular basis, so any future vulnerabilities can be detected and patched up quickly. By doing this, you are not only enforcing a proactive mindset throughout your IT team, but you are also instilling confidence in your customers that you are protecting their Personal Identifiable Information (PII).
Prepare for the worst-case scenario.
Just suppose that after all of this pen testing, the application gets hit by a cyber attack (there is no guarantee when it comes to cybersecurity!) - all is not completely lost. By having done so many of these exercises, your IT team will be able to respond to the threat and mitigate much quicker, resulting in significantly less downtime. You most likely will be able to quickly bring back up your mission critical business applications.
Stay ahead in terms of compliance.
Given the ever changing cyber security and threat landscape, almost all businesses are under the close watch of government agencies to protect customer data being gathered and retained. Compliance can come in the form of such regulations as HIPAA, GDPR, the ISO 27001, PCI Data Security Standards, etc. If an organization fails to comply, they face stiff fines and penalties. By conducting regular pen testing in various stages of application implementation and after, it demonstrates to auditors that you are taking regulations very seriously and protecting customer information/data is of paramount importance.
Conducting adequate security testing is very serious and not something to take lightly. Remember, one of the biggest risks of not conducting testing is financial repercussions.
Find out how to implement a successful security posture - download The Security Guide.