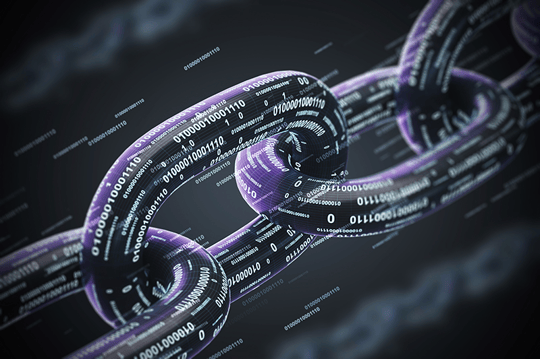 An Introduction to Blockchains
---
Introduction: In the world of business today, there are a lot of new buzz words that are floating out there. One of these is "blockchain". Businesses have started to adopt this platform in varying levels, depending upon their needs. In this article, we examine why blockchains are becoming important to corporate America.
An Overview into Encryption
To fully understand the concept of blockchains, one must first have a basic understanding into what encryption is all about, as blockchains heavily rely upon this. Encryption is the method used to convert data from a readable form to an encoded version that can only be decoded by another entity with a decryption key. It is a vital method of providing data security, specifically for end-to-end protection of data being transmitted across networks.
To illustrate this definition with an example, suppose person X wishes to send confidential data. Obviously, they will have some apprehension in sending it in its original format. The original, written message that is decipherable is known as "plaintext". The only secure way that this data can be sent is by converting it into a completely incomprehensible garbled state (e.g. encryption).
This is very often done by using what is known as a private key, a mathematical algorithm of varying complexity; in essence, the more sophisticated the private key is, the more complex the mathematical algorithm. Once the plaintext has been converted over into this state, it becomes known as the ciphertext; the data can now be sent safely. Even if this ciphertext were to be intercepted by a third party, there is no way that it can be unscrambled because they do not have the private key to do so.
Blocks & The Blockchain
Suppose that you work in the finance department of ABC Corporation. You are working on a very important financial spreadsheet, and you need to keep a lock on the flow of information to prevent any modifications/alterations from being made by unauthorized people. In essence, you want a secure version history.
Suppose version 1 of this document has finally been completed. It will now be locked and made more secure by adding an extra piece of code to it which is called the block. This first version of the financial spreadsheet now becomes undecipherable unless the viewer has the private key.
With the private key, authorized users are able to unlock version 1 and add in changes and revisions. This updated document will now become version 2 and gain a new block and private key. The blocks that have been assigned to all versions of your document now form a chain, also known as the blockchain.
The Top Five Reasons Why Small Businesses are Adopting Blockchain
There are a number of key reasons why businesses are starting to deploy blockchains including:
Enhanced Level of Security
The primary benefit of blockchain for security is that almost anything you use it with becomes nearly impossible to be hacked or even maliciously tampered with because it is constantly being moved around and secured through servers around the world and not in one set physical location.
Improved Layer of Tracking and Traceability
All businesses, no matter what industry they specifically serve, have one common denominator: they all have products and services that need to be delivered. This is where blockchain comes into play. With this, all activities from production to final delivery are tracked, thus providing an irrefutable trail of movement, in real-time, that cannot be maliciously altered as a result of the encryption from blockchains.
Blockchains are very beneficial when it comes to the creation and execution of what are known as smart contracts. These are essentially the same thing as the paper contracts but instead are entirely digital. Along with the encryption, there is another technique known as hashing that is also used. Hashing ensures that all the digital signatures in a contract are authentic and remain intact throughout its entire lifecycle. This same scenario also holds true for the sending and receiving of money online. Typically, most businesses rely upon such services as PayPal, Venmo or Shopify, for example; however, these services always have an associated fee. By making use of a blockchain approach, all of these fees can be completely eliminated.
Because of the tight version history that cannot be altered provided by blockchain, the result is a completely transparent process. Everyone authorized can see who is involved and what is going on providing complete transparency into every change or update.
Businesses need to stay abreast of current trends to see how they can be applied to their own organizations in order to remain competitive; the same true is true of blockchain technology. Since it is cloud-based, blockchain is very affordable even for the smallest businesses. Deploying blockchain technology will provide an edge over your competition, as well as comprehensive peace of mind for your customers.
Blockchain can be used for other types of applications as well, and by any business that has a need for transparency, security, cost effectiveness; it offers the ability to maintain a high level of trust with customers and that much-needed advantage in today's extremely competitive marketplace.
Read more about Enterprise Security here.