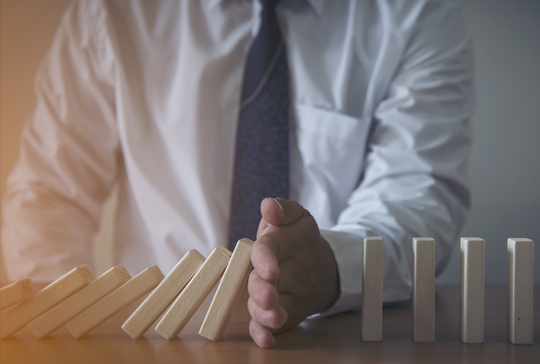 Business Continuity Strategies: What They Are and Why They Are Important
---
Business continuity strategy means having a resilient, redundant remote working environment accessible in the cloud that encompasses all necessary business systems. This would include communications like voice and contact center, CRMs, data center infrastructure, backup strategy and disaster recovery.
Like most companies, you are probably currently looking for ways to rapidly move to the cloud, in the hopes of shielding your business from future disasters and business disruptions. Along with natural disasters, such as hurricanes, earthquakes, floods or fire, man-made disasters like fires or structural damages, utility failures and outages, or physical and cyber attacks, customers are now aware and concerned with pandemics. Businesses have quickly discovered the only way to truly protect themselves is to have a plan, a business continuity strategy that will allow for business and communications to be uninterrupted and available anytime, anywhere.
What used to be a "nice to have" is now an urgent, make it happen overnight requirement with CIOs and IT leaders everywhere demanding it. Even if your business is planning to send employees back to the office when COVID-19 subsides, you should have a remote business continuity strategy. Why? Because of REAL concerns – What if this happens again? What if there is a second wave of COVID-19 or another pandemic that requires the world to stay home again? Can the business afford NOT to have a remote business strategy?
Communication is at the heart of all business activity. You need your voice channels up and running to reach customers and oftentimes contact centers for customers to in-turn reach you. During this pandemic, we have seen first-hand the struggles of on-premise infrastructure. Not having a business continuity strategy for voice or contact center can have a serious and damaging ripple effect on your business.
The Tech Gurus, which is a team of IT solution engineer and subject matter experts at leading technology distributor TBI, have been witnessing many "band-aid" solutions with the business that they work with, commonly involving trying to run their voice and existing contact center services over VPN with less than adequate internet connections. Many companies shipped out thousands of PCs and concerning with servicing their customers primarily through voice communications. The outcome was a lack of productivity and loss of revenue.
Lack of productivity resulted from slow or dropped connections and in-accurate tracking and reporting, from disparate systems, or in some cases no reporting at all. Loss of revenue resulted from lost customers, caused by longer than normal hold times and customers have no option to connect with businesses only available through voice. If these businesses had a business continuity strategy, the move to the remote workforce would have been seamless and uninterrupted.
For infrastructure, business continuity strategy is imperative for a business to continue functioning normally after an incident or event. The first thing you need to do is to assess how long infrastructure can be offline before it impacts your ability to operate and serve customers. Impact can be to the company's business operations (back office activities for payroll, marketing, order entry, inventory), order/sales processing, or to the customer facing WEB presence.
In the past, infrastructure typically existed at a business' HQ or one of its data centers. With the recent pandemic, businesses have been rethinking where their infrastructure should exist. The accessibility of physical systems has become a topic of discussion for you in the event equipment fails or needs updating. We've learned all businesses are not considered essential and can be shutdown, unable to receive shipments (ex: hard drives, power supplies or new equipment needed). Many have moved infrastructure to colocation facilities and cloud offerings – your future plans to take advantage of cloud resources might have been sped up and happening now.
Should your company be moving to the cloud?
The answer is yes for all businesses. As we saw with the outbreak of Covid-19, no company is immune. Businesses with an on-prem phone system, businesses needing multiple channels of collaboration, businesses with cloud, colocation or disaster recovery needs - all are ideal candidates for digital transformation.
Where do you start?
In every technology evaluation, it starts by taking inventory – what technologies do you have now, what are you in the process of bringing on or recognize a need for in the future, what areas of the business are you focused on improving and lastly, what technologies are outdated or unnecessary. Taking an inventory of the current phone system is always a good idea.
It may make the most sense to start by migrating mission-critical elements of the current system to deploy new services, such as omnichannel, increase flexibility and scalability, and gain the greatest cost benefit. Once you know which components to migrate, determine what data should be migrated. Moving and storing data costs money, so identify which data is essential. Old data or historical data that is rarely used can remain on-premises or archived.
Here are some questions to help determine needs and opportunities –
Can you cut down on business travel by utilizing web-collaboration tools such as Zoom, Web-ex Meetings or Microsoft Teams?
Eliminate travel expenses and improve efficiency by being able to attend more meetings, have more connections and increase customer touchpoints. By utilizing web-collaboration tools, your customers can have anytime, anywhere always-on communication tools to share files, collaborate on projects, increase productivity by reducing communication silos. Multi-video communications can be used to keep the personal touch of customer interactions. Most importantly by utilizing a cloud-based collaboration platform, your communications will not be interrupted during any foreseeable natural disasters or pandemics.
How many hard phones do you need and can you using softphones for remote users instead?
Not only reducing costs by eliminating equipment and reducing implementation time, softphones bring the flexibility of communications on any platform -PC, Tablet, mobile phone. They allow your customers to have a single number reach and keep business continuity in-tact anywhere in the world.
Are you concerned with improving your customer experience and ways to cut down on call times or long holds?
Implement solutions with advanced speech IVR, omni-channel solutions or virtual agents. Advanced speech IVRs decrease average handling time reducing abandoned or unanswered calls, while omni-channel solutions allow multiple ways for your customers to reach your business. Virtual agents can be implemented for routine tasks such as password resets and informational queries -all improving the customer experience, increasing productivity, and increasing overall revenue for your business.
Do you have DaaS tools for your new workforce?
DaaS tools can help your organization eliminate the need for costly hardware and setup by creating images that can be deployed one or many times rapidly. DaaS tools also help with workforce expansions and reductions as you will only have to manage the online resources and not have to worry about laptops with sensitive company information. The last but not least thing to consider for DaaS is the security of your data and the fact that you will know who has access and who needs to have access removed by simply managing the DaaS images, when an employee is no longer required the image is removed.
Do you have BaaS tools?
BaaS tools make keeping copies of your data simple and secure. You will no longer have to worry about the security of data as encryption is part of the BaaS tools which safeguard your data offsite.
Do you have DraaS solutions in place?
DRaaS tools are plentiful and available for all platforms which make having a disaster recovery plan a necessity and not a nice to have. Keeping business safe should a disaster occur is needed so workforces can be moved around and have no effect on the performance of the company.
When was security last evaluated on all business systems in use?
Penetration testing should be done on a regular basis to ensure your cybersecurity tools and processes are up to date and protecting your business assets. Tools need to be evaluated and installed on a regular basis and doing application and infrastructure assessments will show the areas to focus on.
Real-life Examples of Business Continuity in Action
Campaign marketing firm had an on-premise outbound dialer, on-premise phone system and on-premise contact center. During COVID-19, the firm could not access their voice components and employees were reduced to using their cell phones to conduct business. The firm's revenues, productivity and end customer experience rapidly declined as all their data and voice functionality remained "on-premises". The firm quickly realized the benefits of having an always-on, always available unified communications (UC) solution and quickly developed a plan to move all voice, contact center, dialer and reporting services to the cloud.
NYC professional office decided to close and needed to move infrastructure to COLO as well as move employees to home office permanently. They took advantage of desktop as a service (DaaS) for new employees, reducing the costs of buying expensive equipment. They will also be adding DRaaS to their portfolio for quick and easy recovery in the event of a disaster.
Aerospace company with multiple locations utilizing HyperV at their HQ location to serve their business needs was looking to create a DRaaS solution. Tech Gurus team created a solution to utilize Microsoft Azure as a target which will greatly protect their business and improve recovery time.
This blog was contributed by TBI Tech Gurus James Demetrius and John Romeo. James is a Cloud Infrastructure Architect with over 30 years of experience in working with Fortune 100 companies for all aspects of the IT lifecycle, focusing heavily on complex managed hosting, cloud, colocation and hybrid computing. You can reach James at jdemetrius@tbicom.com or connect on LinkedIn .
John is an accomplished Cloud Communications Architect and US Patent holder with 25 years of product management, technical sales and design experience, working with Fortune 100 companies on Unified Communications, Contact Centers and business continuity. You can reach John at jromeo@tbicom.com or connect on LinkedIn.