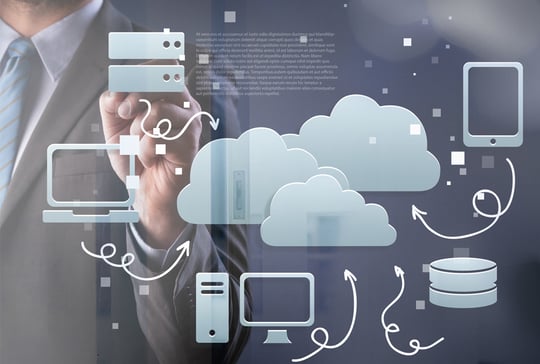 Cloud Computing: Deployment Options
---
When most people think of "the cloud," they are typically referring to public clouds. A public cloud is hosted by a service provider such as Amazon, Google, IBM or Microsoft, which allows customers to access and share basic computer infrastructure including bandwidth, storage and hardware.
A public cloud has several notable advantages including:
Lower costs
No software or hardware is required
Pay only for the service you use
Service provider manages the maintenance, so you don't have to
On-demand resources, scalable to meet your business needs
A massive network of servers ensures against failure, providing high reliability

Perhaps the biggest drawback of a public cloud are concerns about security; quite often, public clouds can't meet most security and regulatory compliance requirements because servers reside in multiple countries that each have their own security regulations. There is also a risk of network issues/downtown occurring during peak hours, and although the public cloud is cost-effective for the most part due to pay-as-you-go pricing, if large amounts of data need to be moved, expenses can accumulate quickly.

Private cloud
Private cloud, on the other hand, is exactly what it sounds like, a cloud that a single entity has sole access to infrastructure resources. Businesses can choose to have their private cloud either hosted by a third-party service or provider or to host it themselves at an on-site data center.
Some of the benefits of a private cloud model include:
Customers have the flexibility to customize their cloud environment to specific business needs
There is a higher level of control and security since resources are not shared with others
Similar to the public cloud, private clouds are also highly scalable and efficient

A disadvantage of a private cloud is that it can be expensive to install. In addition, businesses are restricted to cloud infrastructure resources that are specified in their contract. The amplified security of a private cloud can also potentially make accessing it from remote locations more challenging.

Hybrid cloud
As the name implies, hybrid cloud is a model in which a business chooses to employ more than option from multiple service providers, moving data and applications between both a public and private cloud. For instance, while a company may choose to store data in a private cloud, they could simultaneously run applications in a public cloud. There are several advantages to implementing a hybrid cloud environment including:

The flexibility to leverage additional resources on the public cloud if/when you need them
Your organization can control/maintain a private infrastructure for increased security of sensitive data—also beneficial for meeting mandatory security standards for regulatory/compliance purposes
The ability to scale up to the public cloud increases cost-effectiveness; you only have to pay for extra computing power when you need it
Implementation doesn't have to be overwhelming or painful; migration can happen gradually as you phase in workloads over time.

Hybrid cloud can be challenging to maintain and secure due to its complexity. Things like integration can be difficult due to the combination of various clouds, applications and data involved. There is also the potential of serious compatibility issues coming up across the infrastructure when developing a hybrid cloud model as well.
Read more about Cloud Computing here.