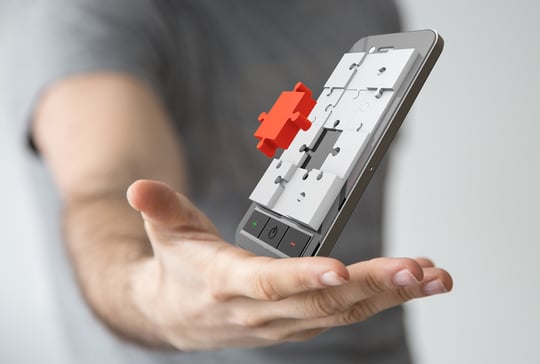 Top Enterprise Mobility Challenges and How to Solve Them
---
As mobile technologies continue to emerge and evolve, businesses will invest more in mobility. According to Citrix, 71% of enterprises currently regard internal mobility as a top priority. That should come as no surprise when seeing the benefit it can bring to both employees and employers. Among many other perks, mobility enables employees to access critical apps and data remotely, allowing them to be productive when out of the office.
However, with mobility's alluring benefits come challenges. Although demand for the technology is always increasing, there is still no set of best practices or standards to regulate how it is deployed and managed. This is causing issues for businesses, exposing them to greater security risks and difficulties caused by the rise of BYOD policies.
Challenges facing enterprise mobility:
Regulatory Compliance
Over the past several years, BYOD has grown from a trend to common practice. Gartner predicts that 85% of businesses will have a BYOD program in place by 2020. Although this is helping companies save on hardware costs, it's also leaving their data more vulnerable to outside threats.
The most common and concerning of these threats is having data accessed from lost or stolen devices. Novell reports that a laptop or tablet is stolen every 53 seconds, and 113 cell phones go missing every minute. If the data on an employee's device falls into the wrong hands, it can lead to a laundry list of issues for your company. Your organization can face costly compliancy fines and even lawsuits due to sensitive data being accessed by unauthorized parties.
Imagine that an employee with a healthcare company leaves their phone or tablet in a taxi, and the device has sensitive patient records stored on it. If the next passenger happens to pick up this device and access the content within it, a HIPAA nightmare could ensue. The company could face hefty fines and damage to their reputation, all because its employee made a simple human error.
Security Policy Enforcement
In addition to data being stolen from missing devices, greater mobility adoption also opens the door to other security risks, including malicious app downloads, data interception on unsecured WiFI, and attacks on individual devices. Unfortunately, many employees neglect to apply proper security measures to their own devices, making them easy targets for hackers to take control and use for nefarious purposes.
Currently, this is one of the largest concerns for businesses leveraging mobility. Out of 800 companies surveyed in Crowd Research Partners' BYOD & Mobile Security 2016 Spotlight Report, 35% said that security threats to employee-owned devices impose the heaviest burden on IT. Since BYOD is still in its infancy, many IT professionals aren't equipped with the guidelines or tools needed to prevent and combat data security threats specific to employee-owned devices.
Remote Access to Data and Apps
For employees to successfully work on the go, they must be able to access company data and applications on mobile devices. One of the biggest draws to mobility is how productive it can make workers outside of the office. In fact, Citrix reports that one of the top two mobile initiatives for businesses is increasing adoption of secure file sharing and collaboration tools.
But, providing such access is difficult to initiate and maintain. Also, ensuring access to critical apps and frequently updating them can be challenging because it's up to the employee if there is no mobile application management (MAM) or mobile device management (MDM) solution in place. Because of this, many businesses are hesitant to allow employees to work remotely.
For example, say there is a critical update to your CRM that needs to be installed. Without MAM or MDM, all they can do is try their best to communicate to employees that they need to install it. While many will abide, others may forget or neglect to do so. With MAM or MDM, IT can remotely download and install the update for them, ensuring it is pushed through on all employee devices.
The Solution: Trusted Mobility Technologies
Offering wide, affordable suites of solutions, MetTel, Verizon, and AT&T can help you meet today's most pressing mobility challenges. Their MDM platforms effectively help businesses deploy, secure, monitor and manage all employee-owned devices, regardless of OS. They also make it easy for organizations to set encryption requirements, restrict usage for specific apps, enforce password requirements, and more on all devices to better safeguard their network.
Among other valuable features, MDM from Verizon, MetTel, or AT&T allows IT to remotely lock or wipe data from any devices that have been lost or stolen. If an employee loses a device filled with sensitive data, IT staff can remotely lock it or wipe all sensitive data from it. This ensures that critical data from the missing device isn't accessible by non-authorized external parties.
Additionally, these carriers leverage highly reputable mobile networks and provide seamless cloud access through industry-leading cloud connect solutions. Through this, they provide companies with the best mobile networks available, and give them end-to-end QoS and private connections to cloud-based data and apps.
Read more about Enterprise Mobility here.