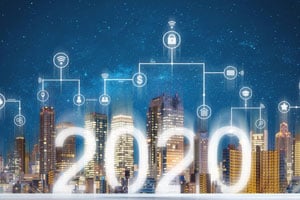 5 Big Technology Trends to Drive Revenue in 2020
---
As we enter a new decade, our jobs and personal lives will continue to become more automated, more digital and more connected than ever before. And innovation is powering the technology growth engine that appears to be at the tipping point of another significant step.
According to research from IDC, the global information tech industry is expected to reach $5.2 trillion this year. Here are five technology trends that will drive innovation in 2020:
1. Continued Cloud Adoption
This year, cloud adoption is expected to increase as enterprises embrace flexible consumption via multi-cloud and hybrid environments. For some organizations, a hybrid-cloud strategy serves as an in-between step in the lengthier process of digital transformation. Due to numerous contributing factors, such as a reliance on legacy systems and compliance regulations, many companies opt to place their workloads on both private and public clouds. Gartner predicts that 90% of organizations will adopt hybrid infrastructure management by the end of this year. Many companies have already adopted multi-cloud solutions that pool cloud services from multiple providers, using a mixture of Amazon Web Services (AWS), Microsoft Azure and Google Cloud in their multi-cloud networks. This strategy allows them to assess the strengths and weaknesses of numerous vendors before they fully commit. Multi-cloud also helps companies optimize costs.
2. 5G Data Networks
As you may be aware, 5G is the fifth generation of wireless technology and is expected to provide speeds faster than any previous generation, comparable to those delivered via fiber-optic cables. Supported by major carriers like Verizon, AT&T and T-Mobile, 5G devices will have lower latency, enabling quicker transmission of more massive data streams.
5G will allow users to download massive files within seconds. It will be more reliable, allowing for improved data transmission in extreme conditions. And 5G will also be more flexible than standard Wi-Fi, with an ability to support a broader range of sensors, devices and wearables.
Many carriers have already introduced fixed 5G to select areas over the last year, and mobile 5G began making appearances in U.S. cities in 2019. More comprehensive rollouts are anticipated in 2020. Here is how businesses are preparing themselves for 5G. This next generation of wireless technology will offer groundbreaking new business applications, with near real-time connectivity. Mobile devices are the clear use cases for 5G, but there are also many diverse applications for the advanced technology. For instance, the Internet of Things (IoT) will benefit from 5G's speed and bandwidth. Autonomous vehicles, critical infrastructure monitoring and robotic surgery, are just a few of the many additional prospective applications of 5G-enabled IoT.
3. Blockchain technology
Gartner recently noted blockchain as one of the top "10 strategic technologies for 2020." In 2020, new use cases for blockchain will be uncovered as machine learning adoption grows across an array of industries. Gartner has stated that blockchain has the opportunity to reshape numerous industries by enabling value and trust across organizations and providing transparency. Other advantages include savings in transaction costs and settlement times and a better cash flow approach.
One of the hurdles with enterprise blockchain to date has been that most networks are permissioned and run by a central authority. But Gartner noted this as an "evolutionary phase" and predicts permissioned blockchains to integrate with public blockchains sooner than later.
Gartner experts also note various use cases for blockchain relating to data, including internal and shared record-keeping, asset tracking and provenance. Several applications center on banking and finance, such as trading, payments/settlement, trade finance and insurance claims. Additional use cases relate to IoT, smart cities, identify-and-know-your-client, and loyalty and rewards programs.
4. Artificial Intelligence (AI)
This year, there will be a shift starting, specifically in established enterprises, where there will be increased experimentation with technologies like AI and machine learning to make delivering even more personalized experiences possible. To date, AI has been a game-changer for businesses around the globe, opening doors to countless possibilities.
Chatbots enhanced with AI, for instance, will deliver extra support to companies' customer service strategy. Basic functionalities, including order status updates, product comparisons and inventory availability, have already become commonplace on many websites. And chatbots can also answer questions 24/7, and instantly record valuable customer data, understand behavior patterns and make real-time decisions.
Another example can be seen in the area of voice recognition. Voice search utilizes AI to help people search for items using speech. Conversational AI allows customers to interact with brands in ways that are highly personalized and convenient. And while these are still evolving technologies, they are providing the right amount of foreshadowing that experts believe will be a transition towards voice-assisted shopping.
5. AR, VR and MR
Over the last several years, many companies have started to experiment with virtual reality (VR), augmented reality (AR) and mixed-reality (MR). In 2020, we will see new use cases emerge that can benefit both the consumer and enterprise user.
VR is expected to play a larger role in helping physically constrained populations, such as the mobility impaired and the elderly solving isolation and loneliness obstacles, for example. There will also be more AR experiments in extension of expert service, such as AR surgical assists, potentially expanding into areas including oil and gas, mechanical and factory jobs.
Another example: according to a Forrester report, approximately 14 million American workers are expected to use smart glasses regularly on their jobs by 2025. Organizations are expected to streamline processes – think training and self-help to workers in the field – with AR overlays that deliver information from training manuals. Big brand Wal-Mart, for instance, has been piloting a program that moves traditional training methods into MR settings. As part of the trial, workers utilize new ways to learn about compliance and safety issues by looking around MR environments and identifying issues practically and engagingly.
Industry experts expect enhancements in prototyping, testing and quality control to emerge from this trend, too. And jobs that require workers' hands to be free may also benefit significantly from AR headsets and glasses.
Want to discuss these technology trends or need help planning IT in 2020? Get free tech advice, IT assessments and compare providers by requesting a consultation.
Want to know more about Cloud trends? Read here.