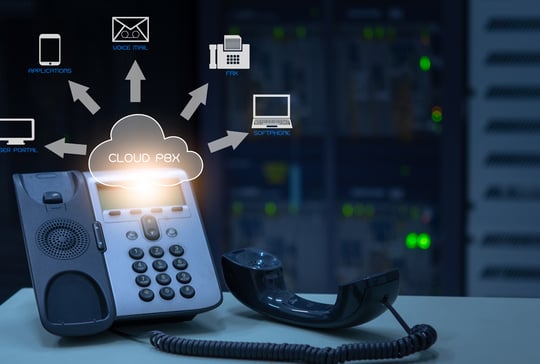 Hosted Voice Over Internet Protocol (VoIP)
---
Hosted VoIP is a solution where a carrier owns and manages all telephony networking equipment and enables you to make calls over a broadband internet connection. It's a more cost-effective, multi-functional, and flexible alternative to an analog phone line.
Global demand for VoIP services is expected to reach above USD 140 billion in 2021 and is anticipated to grow at a CAGR of over 9.1% between 2016 and 2021 – Market Research Store
Why You Need It
Reduced Costs
Because hosted VoIP is a cloud-based solution that is managed virtually, the need for expensive networking equipment is drastically reduced. This provides a huge cost-saving advantage because it eliminates installation and maintenance fees. Also, because you're sending calls over the internet, long-distance and international charges are greatly reduced.
Mobility
With the increased number of employees working from home and BYOD trends, mobile device management is becoming a business necessity. Whereas traditional phone service providers offer mobile accounts that are separate from the phone system, VoIP allows you to make mobile devices endpoints on the same system. This means that your employees can make it so their mobile phones ring simultaneously with their work phones.
Scalability
Predicting growth is challenging, which is why having a phone system that scales at your pace presents a great advantage. Hosted VoIP is designed to be highly scalable and easy to expand, allowing you to seamlessly add or reduce new phones and increase or decrease bandwidth requirements when needed.
Productivity
From automated attendants to automatic call forwarding, hosted VoIP makes it so your business never misses important calls. Additionally, it gives you the ability to add collaboration tools like video conferencing and instant messaging, strengthening communication within your organization. Since it allows for enhanced mobility, it also enables employees to take work calls out of the office.
Benefits
The carrier handles implementation and hosting, removing burden from your IT team.

The transmission is sent over Internet Protocol, reducing reliance on expensive hardware.

Long-distance and international charges are greatly reduced.

Easily scales both up and down by adding/removing phones or increasing/decreasing bandwidth.

Mobile devices can be seamlessly integrated into the system, providing increased mobility.

The ability to add unified communications applications like video chat, IM, and unified messaging.

Users can change features, options, and services dynamically through a simple interface.

Enables rich features like click-to-call, selective call forwarding, mobile integration, and more.

The ability to support legacy technologies like fax machines.