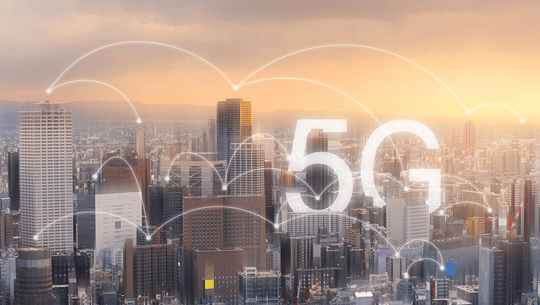 It's Coming – How to Prepare Your Business for 5G
---
Unless you've been living under a rock, you have probably heard that 5G is expected to be a game-changer to the business world, bringing with it significant advantages to organizations large and small.
Many carriers have already introduced fixed 5G to select areas over the last year, and mobile 5G has begun making appearances in U.S. cities in 2019, with more comprehensive rollouts anticipated in 2020. This next generation of wireless technology will offer groundbreaking new business applications, with near real-time connectivity.
While mobile devices are the clear use cases for 5G, there is also a wide range of diverse applications for this advanced technology. For example, the Internet of Things (IoT) will benefit from 5G's speed and bandwidth. According to a recent article, Gartner estimates over 20.4B IoT units will be online by 2020, while IoT-related spending will reach nearly $3T. Autonomous vehicles, critical infrastructure monitoring and robotic surgery are just a few of the many additional prospective applications of 5G-enabled IoT.
While this transformation is not expected to happen overnight, if 5G delivers everything being promised, industry experts predict that 5G will drive industry 4.0 forward. If you've never heard of industry 4.0, it's the term that has been coined to describe the mixing of traditional processes with new, technology-driven advancements, such as advanced analytics, machine learning, the IoT, cloud computing and human-machine interfaces.
If you are wondering what you can do to prepare your business for 5G, starting to plan for its arrival now will help your organization reap the benefits when it becomes a mainstream reality.
What is 5G, and Why Should I Care About It?
4G wireless technology has become the standard for most mobile users around the world over the last decade. From transportation apps (think Uber and Lyft) to social media apps (like Instagram and Facebook), many organizations have benefited from the reliable connectivity and speed offered by 4G systems.
While this fourth-generation wireless technology has numerous advantages, it also has its limitations. In the next few years, the continued rise of connected (IoT) devices will require networks to transmit colossal amounts of data in near real-time, and though 4G networks don't have the bandwidth, 5G promises to deliver just that.
Currently, 4G can reach real-world speeds between 10–50 Mbps, depending on the carrier. These speeds enable capabilities for users, such as group video conferencing, livestream HD-TV, mobile online gaming and emerging experiences like AR/VR. As such, downloading or buffering is commonly required at 4G speeds.
For industries like healthcare or transportation, the delay before data transfer, also known as latency, can have a major impact on system outcomes. For instance, 5G enables near-instant communication between autonomous vehicles—a vital exchange of information that could, for example, stop fatal accidents in their tracks.
5G is the fifth generation of wireless technology. It is expected to provide speeds faster than any previous generation, comparable to those delivered via fiber-optic cables. 5G devices will have lower latency, enabling quicker transmission of increasingly massive data streams.
Supported by all four major U.S. carriers, 5G will allow users to download huge files within seconds and will also be more reliable, allowing for improved data transmission in extreme conditions. Additionally, 5G will be more flexible than standard Wi-Fi, with an ability to support a broader range of sensors, devices and wearables.
Here are some other important ways 5G will be a turning point:
5G will have greater capacity. The networks will be better equipped to handle numerous high-demand applications simultaneously, from HD video streaming and connected cars to IoT devices and VR experiences.
It's ultra-reliable. This means no more connectivity issues or dropped calls, which will lend itself to more "critical" use cases related to digital health and connected vehicles.
5G is faster than all previous network generations; experts believe it will be 100 times faster than existing 4G networks. On a more granular level, 5G may offer speeds as fast as 10Gb/s, which translates to the ability to download a full HD movie in less than 10 seconds (compared to 10 minutes on 4G).
Mobile device users will experience lower latency on 5G networks, significantly reducing delays.
How Will 5G Help My Business?
A major advantage of 5G is the ability for workers to accomplish more in less time, in turn, boosting revenue and saving costs.
And while remote working is already common, 5G could give the concept new meaning thanks to AR/VR and seamless connectivity, making team meetings feel like everyone is in the same room.
In addition, organizations will have continuous, unbroken access to a fast, reliable Internet connection with 5G. In rural locations and communities, this will enable more people to work from home and also potentially open up new business opportunities.
5G's significant leap in connectivity will create substantial opportunity for numerous industries. Healthcare, manufacturing and automotive industries have already started to embrace new technologies and are gradually becoming even more connected. Here are just a few examples:
Field workers and technicians who spend the majority of their time on job sites, where having a more reliable network connection and the ability to access critical files for their jobs in real-time. Additionally, while 5G will help minimize risk in hazardous work environments, it will also allow technicians with specialized skills to control machinery from anywhere.
Healthcare personnel that work in remote locations rely upon a carrier network for receiving information as fast as possible; 5G can provide critical healthcare data in near real-time. Also, expect to see improvements in telemedicine, physical therapy via AR, remote recovery, and both precision and remote surgeries.
Public safety and infrastructure teams will be able to adopt 5G allowing cities to operate more efficiently. For example, utility companies will be able to track usage remotely, and sensors can notify departments when streetlights go out or drains overflow.
Security Implications for 5G and IoT
Security experts predict that the most significant challenge with the implementation of 5G will be the sudden and massive growth of the attack surface due to the swift expansion of IoT devices. Furthermore, many of these devices won't necessarily be connected to a central network in a traditional hub-and-spoke configuration.
As such, with billions of IoT devices interconnected across a meshed edge environment, experts say that any device can become the weakest link in a security chain and expose an entire enterprise to risk.
To address this challenge, business leaders will be required to make some critical shifts when thinking about networking and security. With 5G, security must be edge-to-edge, from the IoT edge, across the core enterprise network and out to branch offices and multiple public clouds. Additionally, security must support elastic, edge-to-edge hybrid systems, blending proven traditional strategies with new methods. For example, while network segmentation has traditionally worked as a strategy for protecting sensitive resources and containing cybersecurity risks, they may not be ideal for safeguarding 5G-related data.
Interoperability between various security tools will require developing new, open 5G security standards as well as the adoption of APIs across vendors and other management tools that can be centrally managed to view and manage security events and policies.
Ultimately, IT teams will be required to assess how to best manage the complexity of multiple co-managed systems as they gradually adopt 5G.
Where to Start
There are a few steps that organizations can take now to prepare for 5G. It's crucial to realize that 5G deployment will be a gradual process–it will exist alongside and in conjunction with 4G, low power wide area network (LPWAN) and other technologies for years to come.
Business leaders can start by ensuring that any new IT project's systems are forward-compatible and can transition to 5G as it becomes available. The advanced technology will utilize a high degree of virtualization, so any business - no matter its size - that reduces its reliance on local mainframes will have a leg up.
It's also a good idea to appoint an internal IT team that can spearhead 5G in your company, taking the lead in creating a 5G strategy and roadmap. 5G will affect every area of your business and should be considered from every angle.
Finally, establish a good relationship with your company's telecom provider. Wherever your organization is located, you would be wise to factor when 5G will be commercially available in your area into your game plan and plan accordingly.
As billions of new IoT devices continue to be deployed in the next year, those forward-thinking organizations that prepare now for the far-reaching implications of 5G will be well ahead of the competition. In today's constantly evolving digital marketplace, that difference can be vital to your company's success.
Read more about Enterprise Network here.