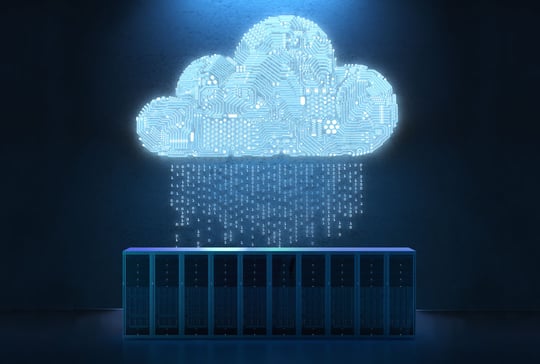 Making a Seamless Migration to the Cloud
---
Whether changing platforms or transitioning business critical applications over to the cloud, companies are adopting cloud for a predictable operational expense model where upgrades and patch management are handled by service providers. Cloud solutions better enable mobile workforce collaboration and better align access to data, varying bandwidth and storage needs. Cloud also allows for improved disaster recovery and business continuity.
Benefits of migrating to the cloud:
Allows your business to easily scale bandwidth and space as needed

Presents more efficient data backup and recovery, even with lost devices

Increased collaboration allows teams to share files and communicate from anywhere

Access to enterprise-class tech at lower costs through a pay-as-you-go (

OpEx

) pricing model

Reduces reliance on hardware, eliminating time consuming updates and alleviating stress on IT
Deployment Models
Public cloud
When most people think of "the cloud," they are typically referring to public clouds. A public cloud is hosted by a service provider such as Amazon, Google, IBM or Microsoft, which allows customers to access and share basic computer infrastructure including bandwidth, storage and hardware.
A public cloud has several notable advantages including:
Lower costs

No required software or hardware

Pay only for services used

Service provider handles maintenance

On-demand resources, scalable to meet business needs

A massive network of servers protects against failure, provides high reliability
Perhaps the biggest drawback of a public cloud are concerns about security; quite often, public clouds can't meet most security and regulatory compliance requirements because servers reside in multiple countries that each have their own security regulations. There is also a risk of network issues/downtown occurring during peak hours, and although the public cloud is cost-effective for the most part due to pay-as-you-go pricing, if large amounts of data need to be moved, expenses can accumulate, quickly.
Private cloud
Private cloud, on the other hand, is exactly what it sounds like, a cloud that a single entity has sole access to infrastructure resources. Businesses can choose to have their private cloud either hosted by a third-party service, provider or to host it themselves on-site at a data center.
Some of the benefits of a private cloud model include:
Flexibility to customize cloud environments to specific business needs

A higher level of control and security since resources are not shared with others

Similar to the public cloud, private clouds are also highly scalable and efficient
A disadvantage of a private cloud is that it can be expensive to install. In addition, businesses are restricted to cloud infrastructure resources that are specified in their contract. The amplified security of a private cloud can also potentially make accessing it from remote locations more challenging.
Hybrid cloud
As the name implies, hybrid cloud is a model in which a business chooses to employ more than option from multiple service providers, moving data and applications between both a public and private cloud. For instance, while a company may choose to store data in a private cloud, they could simultaneously run applications in a public cloud.
There are several advantages to implementing a hybrid cloud environment, including:
The flexibility to leverage additional resources on the public cloud if/when you need them

Organizational control/maintain a private infrastructure for increased security of sensitive data—also beneficial for meeting mandatory security standards for regulatory/compliance purposes

The ability to scale up to the public cloud increases cost-effectiveness; you only have to pay for extra computing power when you need it

Implementation doesn't have to be overwhelming or painful; migration can happen gradually as you phase in workloads, over time
Hybrid cloud can be challenging to maintain and secure due to its complexity. Things like integration can be difficult due to the combination of various clouds, applications and data involved. There is also the potential of serious compatibility issues coming up across the infrastructure when developing a hybrid cloud model.
Community cloud setup is mutually shared infrastructure between organizations that have common business interests. Best for businesses with shared security compliance concerns (HIPAA, FISMA, GLBA etc.).
How Businesses use Cloud Computing
Although the first cloud computing services are barely a decade old, a large array of organizations—from tiny startups to global corporations, government agencies to non-profits—are embracing the technology for all sorts of reasons.
Cloud computing can contribute to increased productivity because employees can access their data and apps from anywhere with an Internet connection. It increases the reliability businesses need for processing and data can be mirrored at numerous redundant sites on the cloud provider's network.
The majority of cloud computing models are subscription-based (SaaS) models; the pay-for-what-you-use model is cost-effectiveness and enables the flexibility an organization needs to scale up/down as business needs change
Nearly every organization is leveraging cloud computing in some form. The most common usage is communications—email, voice and video and through applications like SharePoint and Slack. Other common examples of how businesses use cloud compute include:
Application Testing & Development
When developing an app, the cloud can help save costs and allow the creation of cross-platform experiences that are scalable and are able to be brought to market more quickly. Additionally, many cloud services include pre-coded tools (directory services, search, security, etc.) that can help speed up and simplify development as well as allow teams to quickly set-up and dismantle scalable test and development environments in the cloud.
Backup and recovery
To avoid large capital expenditures for infrastructure and management, organizations instead rely on cloud services for their backup and recovery wherein the provider is responsible for managing data and meeting legal and compliance requirements. The cloud also enables the flexibility to accommodate unexpected storage or backup demands. Recovery also happens faster because the assets live on a network of physical locations versus one on-site data center.
File storage
One of the most common usages of the cloud is probably file storage. The simplicity in which many cloud services sync your files—often automatically from your device—enables users to switch between devices with ease. The additional bonus here is that the cloud service provider maintains the infrastructure and businesses only pay for the storage they're using.
Productivity
Office tools such as the Microsoft and Google suite of products are cloud-based, which allows employees to connect to their data and applications from almost anywhere, and also ensuring that your data is device-proof (meaning if you laptop is lost or damaged, your work is not).
Establishing a Cloud Migration Strategy

Migrating to the cloud requires

companies

to plan strategically. Consider not only current needs but the future state of the business. Cloud strategies are most often driven by  business needs of departments, not the IT team. Focus on how cloud enables business drivers or allows for company growth to determine which applications can move to the cloud and what should stay on-premise, which applications may perform better in a cloud environment and what will not?  Help understand your cloud readiness by auditing infrastructure, workloads, usage patterns and willingness to change.

Questions to consider:
What applications are critical for your business (in order of priority)? Consider what you use on a daily basis.

How many users access

these critical applications daily, weekly, monthly? What is their process? How does it vary by user?

In the event of an outage, how much downtime can your critical applications and systems experience?

What is your current physical network infrastructure and software?

How many servers do you have in place? When was your last hardware upgrade?

What level of security does your business and data require? What level of compliance and regulation must your business adhere to?

What is your current disaster recovery plan?

How equipped is your current IT department to manage future IT needs?

How many employees are working remotely or need to access business data off-site?

How often have you experienced limitations to your data center or colocation environment?
There are 3 decisions that need to be made when migrating your applications to the cloud:
Solution


Applications identified for migration based on business and technical factors determine the type of cloud solution:

Software as a Service (SaaS), Platform as a Service (PaaS), Infrastructure as a Service (IaaS).

Environment


What environment will the solution need to be hosted in, public, private or hybrid cloud

(some will remain in your datacenter).

Access


It should then be determined how best to access the migrated applications via public or private IP. Considerations to this decision should be based on your customer's security and compliance, management, app roll out and deployment and integration with other existing applications.
TIP:  For those just starting their foray into the cloud, start with migrating services that are easier to shift with less potential impact on systems, should something go wrong. Things like batch processing, analytics platforms, collaboration tools and widely adopted web apps like Office 365.
Engage our team of Technology Advisors to help define you cloud migration strategy and the best solutions for your business.
Read more about Cloud here.