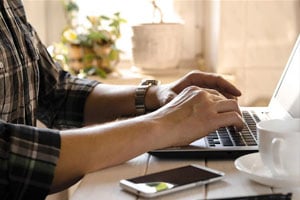 Mobile Solutions for Your Workforce
---
Even before the COVID-19 pandemic, working remotely was already more popular than ever before. One Gallup survey in 2019 found that more than 40% of Americans worked from home occasionally, and in recent years, the U.S. Bureau of Labor Statistics (BLS) noted that roughly 16% of Americans (nearly 30 million people) now work remotely on a regular basis.
Last week, Forbes reported that an astonishing 60% of American workers are now telecommuting and estimates that the number will probably peak between 65-70% while the country continues to increase the number of people sheltering in place. Telecommuting, also called teleworking or mobile/remote work, is simply a work arrangement in which employees do not commute or travel to a central place of work. Previously, workers could work from anywhere—Starbucks, the mall, airports – but due to the social distancing recommendations from the CDC and the increasing number of state imposed shelter in place orders, telecommuting is now taking place in homes across the country and globe.
Ensuring that employees—including yourself—stay productive and have secure access to necessary apps and data while telecommuting has become a top concern for a rapidly growing number of businesses. For those that never had any kind of remote work policy, or only allowed it on a limited basis, the transition might be a little rough. Understanding the variety of remote work tools and mobile workforce solutions available to help you and your team remain at peak performance levels can help make the most of this time of social distancing and mandated work from home situations.
While mobile workforce solutions typically bring to mind smartphones, tablets, and laptops, there are a host of other tools that can help your customers stay connected; a few examples include:
Enterprise Mobility Management (EMM)
Enterprise mobility management is software that enables businesses to enable the secure usage of mobile devices and applications by employees. IT teams can easily provide employees with the data and applications necessary to perform work-related tasks on mobile devices, which can lead to improved productivity as a result of reduced IT workloads.
In today's environment, it allows peace of mind to companies who have experienced a rapid surge in the number of employees working remotely that necessitates an unusually high number of workers using mobile devices to access applications and data remotely.
Mobile Device Management (MDM)
A core component of EMM, mobile device management is software that enables IT staff to secure, control and enforce mobility policies on devices such as smartphones, tablets, laptops and other endpoints, simultaneously protecting the corporate network while also optimizing the functionality and security of mobile devices.
MDM offers a relatively simplistic solution to security and accessibility concerns specific to enterprise mobility. Some of the benefits of MDM include:
Automated compliance: Tracks compliance in real-time, alerting IT admins
Data loss protection: Allows IT admin the ability to remotely lock/wipe managed devices
Easy device enrollment: Both admins and end-users can enroll devices via the agent or email
Enterprise deployments: Manage large-scale deployments of mobile devices
Flexibility: Employees have the freedom to use a variety of productivity devices and maintain real-time adherence to data security and compliance
Secure Access: Enables secure mobile access to corporate resources while enforcing security and compliance policies
Managed Mobility Services (MMS)
The procurement, deployment and management of mobile devices and apps as well as PC software and services that connect out-of-office employees to the enterprise environment is called managed mobility services (MMS). MMS focuses on connecting mobile out-of-office employees to other employees, databases and servers.
Now more than ever before, MMS providers are offering their customers solutions for their newly created (or newly expanded) remote workforces that are allowing them to continue being productive and communicate with team members when not working under the same roof.
Enabling Secure Access to Critical Information
For employees to successfully work remotely, they must be able to access company data and applications on mobile devices—from tablets and smart phones to laptops. One of the biggest draws to mobile solutions is the ability for workers outside of the office to remain just as productive. In fact, Citrix reports that one of the top two mobile initiatives for businesses is increasing adoption of secure file sharing and collaboration tools. And, it's never too late to adopt these solutions for your employees. While our current enforced isolation may be temporary, we're not yet sure just how temporary, and there's no guarantee that some type of natural disaster wouldn't sideline your workforce again in the future.
Unfortunately, providing secure access to remote employees can be difficult to initiate and maintain, and guaranteeing access to critical apps while also keeping them updated can be challenging since the employee would be responsible if there is no mobile application management (MAM) or mobile device management (MDM) solution in place. Because of this, a lot of businesses that may have been previously hesitant to allow employees to work remotely are faced with having to do so now in a less-than-ideally secure environment.
The Solution: Trusted Mobility Technologies
Offering wide, affordable suites of solutions, there are a variety of providers that can help you meet today's most pressing mobility challenges. Their MDM platforms effectively help businesses deploy, secure, monitor and manage all employee-owned devices, regardless of OS. They also make it easy for organizations to set encryption requirements, restrict usage for specific apps, enforce password requirements, and more on all devices to better safeguard their network.
How You Can Get Help
In these challenging times, getting the tools that you need – from communication and collaboration to data access and integrity – can make a huge difference in how you weather the storm. It's important to take advantage of resources available to you. Visit the Tech Guidance Resources for COVID-19 page for important information for businesses including special promotions available to businesses. Submit any questions into the get help now form and our vendor-agnostic team will provide recommendations and advice.