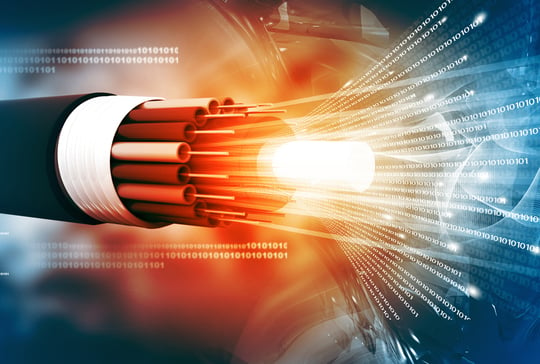 Overview of Internet-Network-Connectivity
---
Although the cloud can provide incredible value to organizations by providing cost-effective services and applications, multi and hybrid cloud environments create various network configurations for access and deployment.
In order to ensure maximum value and reliability of cloud services and resources, organizations need to determine how they prefer to consume technology before determining the best network connectivity model as well as service providers to meet business needs.
While less than 10% of enterprises are currently adopting private connectivity over public internet, Gartner predicts that this number will increase to more than 30% in just a few short years. One of the biggest reasons for this migration are safety concerns. Recently, several reports, including the 2019 Cloud Security Report from Cybersecurity Insiders, found that over 90% of organizations are moderately to extremely concerned about public cloud security. Major concerns cited included unauthorized access, data loss/leakage, security compliance, and malware/ransomware, amongst a litany of others.
For organizations considering private connectivity, evaluating network providers and service offering can be a daunting task. Understanding not only what to look for, but the nuances of different solutions/connection types are critical to determining the best fit for the business.
A few key areas to focus on during the evaluation process include:
Seamless connectivity to cloud service provider networks

Flexible offerings

Robust service level agreements (SLAs)

Diverse bandwidth options
What is Ethernet?
Enabling IP networks to run on top of layer 2 connections, Ethernet is the most widely installed LAN and WAN technology. It is a less expensive and more powerful alternative to traditional connectivity solutions that require T1s and OCXs, with the ability to reach speeds up to 10 Gbps.
Most businesses don't have the time, resources or expertise to effectively manage a network, which is why many rely on carriers for alternative solutions. Ethernet VPN is commonly chosen because it allows you to seamlessly connect thousands of business locations, support multiple applications, and choose between a flat fee or more flexible, usage-based billing options. Ultimately, the VPN increases speed, decreases latency, strengthens IP phone connectivity, improves quality of phone service and processes information faster.
Benefits:
Faster Speed

. Ethernet offers one of the fastest connections available, especially when it's fiber-based.

Scalability

. For growing businesses, Ethernet-based networks are optimal because they're so easy to scale.

Flexibility

. Ethernet is so common because it is compatible with most hardware, so there is no need to worry about updating existing equipment or devices, which also saves on hiring technicians or paying for additional equipment. Managed options are also available.

Cost

. Ethernet is generally the less expensive connectivity option, allowing you to benefit from a high-speed network without paying a fortune.
What is Fiber Internet?
The use of fiber-optic cables to provide dedicated, ultra-fast internet connections between two or more locations.
Because of its extremely high bandwidth availability, fiber internet allows businesses with a great need for data transmission to satisfy demands without affecting speed or uptime performance. This allows you to execute data-intensive activities like web conferencing, file sharing, and HD video streaming without sacrificing network performance.
For those who already leverage cloud, or plan on migrating to it in the near future, fiber internet provides a faster connection to cloud-hosted data and applications. Companies benefit from fewer delays in accessing information through SaaS applications and pulling data from AWS, Azure, Google Cloud and others.
 Lastly, the reliability of fiber lowers a businesses chances of losing money as a result of network downtime and lost productivity. Fiber-optic cables are not affected by harsh weather conditions or other interferences (they are underground), so the business is likely to remain online at all times. 
Benefits:
Faster speeds than DSL, faster access to cloud data and applications

Dedicated access not shared with others

More reliable because it's not affected by weather or human/electrical interference

Bandwidth availability is significantly higher, allowing for larger volumes of data transmission

Eliminates latency issues, allowing for undisrupted upload and downloads of large files

Fibers must be physically cut in order to breach the network, providing an added layer of security

Allows for increased investment in video conferencing, without sacrificing available bandwidth
What is MPLS?
MPLS (Multiprotocol Label Switching) is a data-carrying technique for high-performance telecommunications networks. This solution speeds up and shapes network traffic to accommodate expansion and bandwidth differentials, all while facilitating global connectivity.
Why do you need MPLS?
MPLS increases speed, decreases latency, strengthens IP phone connectivity, improves quality of phone service and processes information faster. It empowers prioritization of critical business traffic across a wide-area network (WAN); MPLS allows for Quality of Service (QoS), meaning you can prioritize the flow of your traffic. For example, you could dedicate a larger portion of your bandwidth to voice data to ensure your calls are cleaner and clearer.
MPLS can also scale on a massive level in comparison to Ethernet. For instance, a network using MPLS can connect thousands of sites, whereas Ethernet can only handle hundreds. Additionally, one of the greatest advantages of MPLS is that all interconnected locations run on separate protocols. This means that none of the sites are dependent on a central hub, so if your main office experiences an outage, other branches won't be affected.
Benefits:
Enterprise-class network with built-in, end-to-end SLAs

Performance monitoring – visibility and control

Payment options: one-time flat fee or usage-based billing

Disaster recovery built into a network solution

Simplification of network infrastructure through addition and support of multiple services with one

provider

Improved application performance and prioritization

Carriers handle routing, so companies can keep fewer WAN/router engineers on staff

Simple interconnectivity between tens of thousands of locations
What is DIA?
DIA is the connection between a company or user's site and the Internet; it enables seamless access to Internet services including web browsing, web or domain hosting, and any number of e-business applications needed to perform mission-critical applications. Dedicated Internet Access is a global Internet access service, which is both reliable and scalable. It is custom-made to meet business-critical connectivity requirements.
DIA is offered in a variety of forms and sizes ranging from a DSL (digital subscriber line) to a data T1 line. Satellite data connections are the most popular type of DIA connection. Though similar to both DSL and T1 in bandwidth, satellite connections offer customers the ability to connect in virtually any location without restrictions.
Ethernet connections are also used for dedicated internet access, providing between 5MB and 1,000MB of bandwidth; however, ethernet connections are specific to physical locations.
Why do you need DIA?
Dedicated Internet Access is essential for businesses that host servers and therefore require continuous Internet/Wide Area Network (WAN) connections; it is also essential for organizations that require static IP addresses and Domain Name Services (DNS).
DIA is ideal for performing business applications, such as providing Internet access for employees via a Local Area Network (LAN). Since DIA is a point-to-point network connection and utilizes a T1 line, network congestion can be greatly reduced using either Ethernet or leased lines depending on the distance and service requirements. Businesses that use web-based applications and other cloud-based solutions can be well supported by DIA's high-quality connectivity. Using DIA, they can connect to the Internet Service Provider (ISP) in a way that is both reliable and secure. Since DIA service is not IP-based, it is possible for businesses to connect to any ISP regardless of the distance and the location of the service provider, and the cost is also reasonable. The major benefits of using a dedicated Internet service include:
Benefits:
Optimal performance

High availability

Reliability

Cost-effectiveness
Read more about Internet/ Network here.