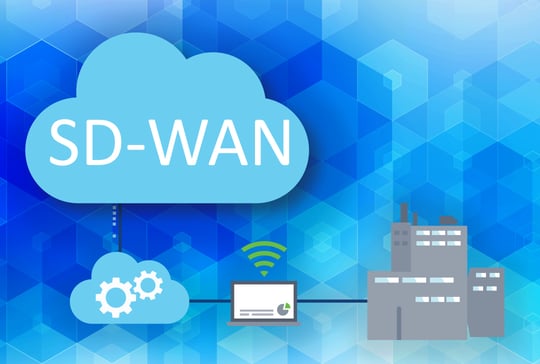 SD-WAN: What is it? What you should know.
---
According to IDC, worldwide SD-WAN revenues will exceed $6 Billion in 202, with a CAGR of more than 90% over 2015-2020 forecast period.
What is SD-WAN?
WANs were built with expensive routers at the network edge to direct traffic over MPLS circuits. MPLS provides guaranteed bandwidth and quality of service QoS. MPLS private connections are costly. Additionally, they are difficult to configure and can take a long time to implement. As more business moves to the cloud and remote employees need to access disparate systems and applications, flexibility and a more cost-efficient way to operate WANs is needed. Enter software defined WANs – the ability to balance cheaper broadband networks with MPLS circuits to route traffic based on bandwidth requirements specific to each application.
Businesses across the globe are looking to access the benefits provided by SD-WAN implementations including cost savings, increased network resiliency and better application performance across complex network environments.
How does SD-WAN work?
SD-WAN securely connects users to any application, whether hosted in the data center or in the cloud across any WAN transport service including broadband internet services.
Usually, SD-WAN is deployed for the purpose of failover and redundancy with the added benefit of improved application performance. It has become the mainstay for remote employees to access cloud-based apps and connect to multi-cloud environments.

Why do you need SD-WAN?
Underperforming networks with not enough bandwidth, latency issues, throughput, error rate and jitter, costs any business money. Network challenges reduce productivity, interrupt sales and create future problems due to a negative customer experience.
Traditional WANs were not built for cloud. Today's enterprise has a mix of applications hosted in various environments -- enterprise data centers, on-prem, public or private clouds, and other SaaS solutions. Organizations of every size need to leverage their transport services be it MPLS, LTE, or broadband or dedicated internet in order to securely connect their users (remote or not) to applications. They need to ensure mission-critical applications are easily and intelligently routed, secure, and have priority accessibility versus applications using the Internet. SD-WAN improves security and helps reduce threats, it simplifies branch WAN architecture and while it might, at the onset, increase costs the customer gets more for their money.

Who is SD-WAN for?
SD-WAN should be a consideration for multi-site organizations that house data on-prem or use applications in the cloud. It's particularly useful for companies in multi-cloud and hybrid environments, with applications both on-prem and in data centers and who use productivity tools like Salesforce, Workday, Office365, Dropbox, etc.
Companies with branches/remote offices

Organizations dealing with acquisition and disconnected networks

Organizations without a network manager or adequate IT support

Multi-cloud /Hybrid environments

Many virtualized applications deployed across the organization

Performance/latency issues with mission-critical applications

Benefits of SD-WAN:
Create a business-first networking model with additional benefits that include:
Failover and redundancy

WAN optimization

Agility and better application performance

Network traffic segmentation

Improved network efficiency

with

intelligent routing and stabilization of cloud-connected resources



Some SD-WAN platforms like VeloCloud enable streamlined/aligned multi-cloud environments, providing automation for new cloud instances and application additions.

Recommended SD-WAN Providers:
Domestic:
Airespring (VeloCloud), AT&T (VeloCloud), Coeo (Versa Networks), Cloudgenix
International:
AT&T, Cloudgenix, Expereo, Masergy, Telstra
Read more about SD-WAN here.