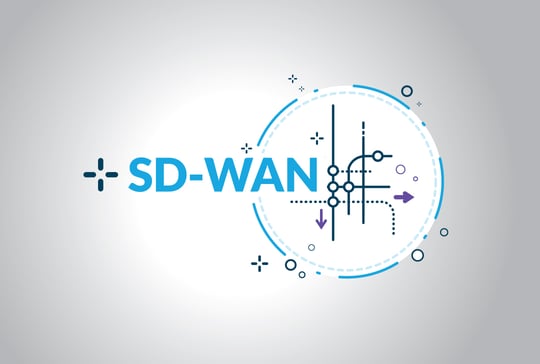 Six Benefits of Adding SD-WAN to your UCaaS Solution
---
To keep up with the evolution of technology, learning how to bundle next-gen solutions, such as network and Unified Communications (UC), can help enable your digital transformation.
The combination of certain technologies can provide exponential benefits when bundled together. SD-WAN, for example, is a natural fit for UCaaS by improving voice and video call quality and providing more deployment options, increased bandwidth efficiency, and potentially lower costs.  
Research firm IDC predicts that, over the next several years, cloud-driven solutions will present businesses with the potential to significantly improve performance or increase productivity. In addition to cost-effectiveness and quality of service, since SD-WAN and UCaaS are both as-a-service solutions, the pay-as-you-grow models allow businesses to scale up as your business grows and scale back down during off seasons or slow periods.
Here, we'll look at six reasons why adding SD-WAN to a UCaaS solution can both increase productivity and improve the overall efficiency and quality of your communication systems.
Better Routing:
SD-WAN addresses issues that contribute to lower QoS (quality-of-service) such as jitter, packet loss, and latency by deploying dynamic traffic management across multiple network links, in real-time. Some SD-WAN solutions provide both redundancy and QoS to networks and improve the quality of an organization's connection via cloud-managed router capabilities.
Extra Reliability:
SD-WAN often serves as a cost-effective backup solution because it enables an active-active configuration, which enables operational continuity in case of link failure. This allows for near 100% up-times as well as superior voice and video quality.
Improved Security:
SD-WAN enables the security of UC solutions in several ways. Primarily, WAN segmentation, which can reduce the instances of some of the most prevalent cyberattacks that can occur in UC systems. Isolating traffic by application makes it more difficult for some threats to identify and/or attack core applications. Not only does SD-WAN enable increased security protocols but it also provides a cleaner flow for UC traffic.
Better Monitoring:
Emails, normal web browsing and most file transfers can handle jitter and packet loss with fairly minimal loss of productivity, UCaaS, on the other hand, will experience a noticeable slow-down with the same jitter and packet loss when dealing with voice or conference and video resulting in frustrated employees, a decrease in productivity and potentially unhappy customers as well. With SD-WAN, traffic prioritization can be managed so that tasks that can wait are automatically put on the back burner to highly prioritized traffic, such as a web conference or phone calls.
Compliance:
Together with UCaaS, SD-WAN helps to ensure that compliance regulations are met for industries such as healthcare and finance—even PCI-DS , HIPAA and GDPR—due to the inherent redundancy and traffic prioritization traits of the solution.
More Services:
Reliability and prioritization also make adding other cloud-based solutions easier without needing to increase the amount of bandwidth. This is particularly true for organizations utilizing SD-WAN in a multi-office environment.
Too often, the process of integrating new solutions into an organization's tech environment can be slow or cause unexpected deficiencies in bandwidth or support. By bundling an SD-WAN solution with a UCaaS solution, you can expect seamless connectivity, enhanced visibility, increased security and the ability to effortlessly scale to the evolving needs of your business.
Interested in learning more about UCaaS or SD-WAN specifically? Download our e-Books on the subjects.
Read more about SD-WAN here.