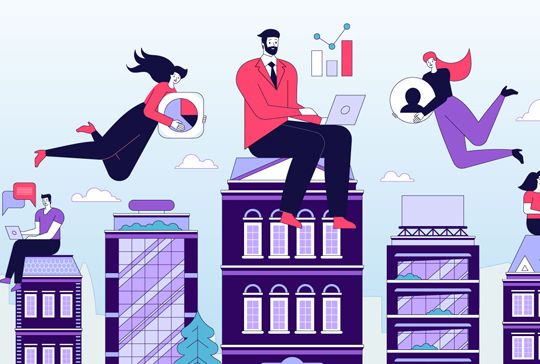 Strengthening the IT Environment to Support Remote Work
---
The response and urgency with which we all had to react to COVID-19 came on quickly. Suddenly, we found ourselves having to ramp up an offsite workforce, testing company productivity, IT teams and infrastructure. While some had remote employees or work from home policies, a completely remote workforce and IT infrastructure operating out of office was not a fully baked plan for most.
Now, companies need to be adapting their IT environments, and should be thinking about infrastructure, assessing the current state and more importantly quickly identifying any gaps or inefficiencies.
Network & Bandwidth
What to Consider: What performance issues are you seeing or are employees experiencing? What network modifications have you already made? How is bandwidth keeping up?
Employees already face distractions while at home. Add in the pain of slow internet, too many users and connectivity issues and you have building frustrations. PC Mag reports a third of remote workers say weak internet is hurting their productivity.
Consider network capacity. Look into both popular applications employees are running and business applications draining the company network. Determine what is cloud-based and what can be moved to the cloud. See if remote desktop programs could be a viable solution to free up the network.
Another worthwhile consideration would be sharing work from home best practices across your organization. Give tips to employees on ways to reduce network traffic like staggering application usage, limiting access to non-critical services or using audio versus video when possible.
VPN
What to Consider: What issues are happening with employees working off VPNs? How many VPNs have you needed to setup quickly and what security measures did you add?
Many companies rely on virtual private networks (VPNs) to securely connect between remote employees and company servers. Previously, it was common for some employees to have VPN connections; now entire businesses are connected, requiring more devices, more bandwidth and more security risks. To mitigate some of those security risks, at minimum, businesses should be requiring multi-factor authentication. While VPNs connect and authenticate users, identity access management (IAM) solutions authenticate before connecting, enforcing a stronger defense against attacks.
Companies should provide employees with training on accessing company systems through VPNs and even a refresh on security best practices (secure passwords, safe connections, approved devices, etc.). Employees should only be using company-approved devices updated with the latest security and network requirements. To identify vulnerabilities and find the right security solutions that go beyond basic email and access threats, use Tech Guidance team for free security assessments - request a consultation.
Devices
What to Consider: How are devices being delivered to employees? What are you doing when employees need devices repaired? How are you getting devices back when an employee leaves? Do you have a BYOD policy?
With each employee requiring devices to function (laptops, tablets, phones), many IT departments have been under the gun to quickly get equipment up and running and in the hands of employees. Does the company have a BYOD policy? What security measures are in place? Does IT have a Mobile Device Management (MDM) solution in place to remote lock, wipe or assist with stolen or compromised devices? Now might be an opportune time to consider desktop as a service (DaaS), where IT can deliver applications and email over the internet without needing to maintain more hardware.
Deploying and configuring secure dedicated virtual desktops could enable home computers to function as though they are the employee's computer in the office. With DaaS, moving desktops to the cloud frees up hardware resources and lets users gain access from any device while still giving businesses complete control, including lockdown settings. The virtual desktop is running on enterprise level hardware, through a secure data center, making it less susceptible to ransomware and attacks and making management easier while providing higher reliability and uptime.
Security
What to Consider: How have you increased security for the new remote workforce? What additional checks are in place?
This pandemic has brought about an onslaught of cyberattacks. With traffic running through employees' home internet, IT teams need to focus on endpoint protection, firewalls, anti-malware, patch updates and threat monitoring. Full-disk encryption of devices should also be in place, keeping sensitive company data securely stored without being easily accessible to potential intruders. If your company has not yet made the move to a zero trust architecture, you should be considering it as a strong security approach that treats every user as a possible threat whether inside or outside the network.
Does your IT team have the capacity to be quickly dispatched should a critical security issue occur? Because that's a real possibility and responsibility does fall on IT. Scary to think about, but what would the consequences be should a breach or attack happen? For many, a managed security offering might be the way to go, offsetting liability on an already overworked IT team.
Finally, you cannot talk security without bringing up disaster recovery – 95% of companies have DR plans but 23% have not tested them. Do an audit of disaster recovery plans along with penetration testing and vulnerability scans - request a consultation get these services for free. As an added safety measure, recommend that customers send out internal communications regarding cybersecurity best practices and any available trainings. Employees should also have direct contact information for IT staff and know how to proceed should they suspect or encounter any security issues.
Communication and Collaboration Tools
What to Consider: What struggles are you having with communications? What are the authorizations and securities on your current communication platforms?
Communication and collaboration tools are keeping businesses going right now, connecting internal staff as well as employees and customers. These solutions allow for chat, voice and video conferencing, but also can be a means to track employee activity and engagement. You might have multiple communications platforms; you should do a quick assessment and evaluate your systems – there's a good chance you'll find an opportunity to streamline tools. Also, consider reporting capabilities and how communications tools can facilitate employee management as supervisors are no longer monitoring direct reports in person.
As with most IT matters, you should address security for communication solutions. Video conferencing has exploded by offering an alternative to face-to-face interactions, but security concerns have made headlines, too. Make sure proper authorizations and controls are established.
Tech Guidance is helping businesses navigate these challenging times. Check out COVID-19 resources for solution recommendations and provider promotions, and request a consultation for free advice on any IT matter you're dealing with right now.