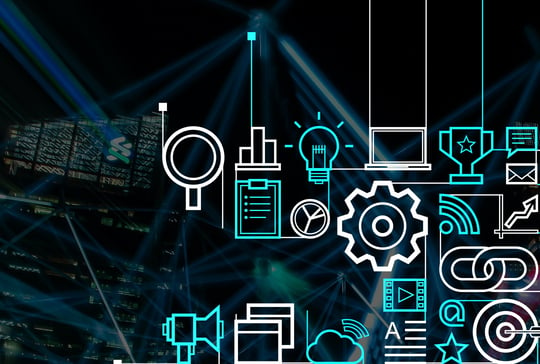 Technology Consumption and the Changing Landscape
---
T
he rise of IoT, emerging technologies, and the increased demand for edge computing has presented new security and data center challenges. As such, conversations about network architecture have taken on a different shape as of late.
"Digital business across the enterprise is now a full C-suite team pursuit," according to Chris Pemberton in his recap of 8 top findings to Gartner's CMO Spend Survey 2018-19. Digital initiatives topped the list of priorities for CIOs in 2019, with 33% of businesses now in the scaling or refining stages of digital maturity — up from 17% last year (Gartner, 2018).
To address changing consumer and employee behavior, businesses are growing and adapting not just with new technologies, but by implementing new ways of accessing and connecting to them. Once technology novelties, "emerging tech" is now being implemented in the large enterprise space and will start to have a trickle-down effect in the immediately future. Technology purchasers still need to consider both their network and their bandwidth for faster communications and an improved customer experience when implementing autonomous solutions such as augmented analytics, Natural Language Processing for BI and analytics, fog and edge computing, immersive experiences with VR/AR and Mixed Reality, blockchain, connected devices, and as-a-service consumption.
Connected systems are our new reality. And, according to Cisco, global IP traffic will triple by 2021 (Cisco, 2018). As new technology gets deployed within the enterprise, one thing remains clear, connectivity and the strength of the underlying network has never been more important.
Cloud applications, interconnected devices, streaming applications, and voice services are all putting pressure on traditional MPLS networks. As businesses struggle to support ever-growing connectivity demands with cloud-based apps or to maintain seamless access to mission-critical systems, bandwidth becomes an issue. Many networks can't handle the increased demand because they are lacking speed, high capacity pipes, smart connections, and adequate last mile connections. Now, connections to the cloud, branch locations, data centers, etc., all require hybrid network configurations or SD-WAN to utilize the necessary gigabyte last mile options.
Network transport should remain a key topic in digital transformation journeys. As more applications and workloads migrate to the cloud, the last-mile will ultimately determine the performance of the network as well as user experience. Subsequently, it's important to insist on direct connections to the Internet as well as pathways that guarantee performance, security and reliability. The combination and innovation of SDN and gigabyte broadband will help shape enterprise networks and continue to enable digital transformation.
5G wireless backup will be incredibly beneficial when it comes to data center connections, connections to clouds, and connections to each other/disparate locations.
5G connectivity will begin taking center stage as we all face a congested, traffic-filled Internet. 5G is slowly becoming a commercial reality; it provides wireless connectivity options (e.g. back up and capitalizing on gigabyte speeds for last mile, thus eliminating the need for wires). It will also enable more hybrid and cloud applications with newer technologies such as machine learning, graphics rendering in the cloud for mixed reality innovations, all as a result of higher bandwidth and lower latency. 5G will be a game changer on all fronts: networks, devices, applications, business processes and models, and additional use cases as technology continues to evolve.
Data center business will begin to look different to accommodate real-time, mission-critical data, particularly when it comes to IoT. Fog and edge computing, which are the way data is processed and the network connections needed to bring data from the edge to the endpoint (mainly being the cloud), are going to become more popular. It has to be. FuturumResearch asks "if you were driving an autonomous car, would you want its communication to battle through a mess of data from users making online purchases or uploading files for their company? Or would you rather it makes a clear beeline directly to your car's data processing center?" Futurum goes onto say, "…as we're using augmented reality for training, smart vehicles to manage our transportation needs, millions of IoT devices, and even remote robotic surgeries to save lives, we're at a point where we can't risk the chance of data getting stuck in digital traffic. In many cases, data delay could mean the difference between life and death" (Futurum, 2018).
Emerging technologies like AI, IoT and 5G will increase data production and real-time, mission critical data will now need to be stored in closer, smaller data centers. An IDC study, DataAge 2025 found that by 2025 almost 20% of the data created will be real-time in nature. Hence, the ability to process and securely store data at the edge rather than sent to the network core for processing will be essential. The data center prediction by many telecom experts is that data center infrastructure will become more distributed with regional storage hubs and smaller city locations. These micro data centers will be bolted onto existing communication structures like telecom towers with the rollout and commercialization of 5G.
A word of caution with emerging technologies; our expanding digital footprints, numerous access points to the cloud, interconnectivity, and connected devices all leave us vulnerable. The proliferation of cyber threats has morphed into new threats to the security of our networks and data.
Opportunities exist for over-the-top solutions, managed services and network provider security; however, each environment is different. Internal talent and skillsets as well as organizational structures are all vary from business to business. It is imperative for organizations to stay apprised of new rules and regulations that are enacted each year; it's equally important to identify reliable partners who can help conduct security assessments and present the right solutions to mitigate, thwart, examine and prevent your inevitable attacks in the future.
Read more about Internet/ Network here.