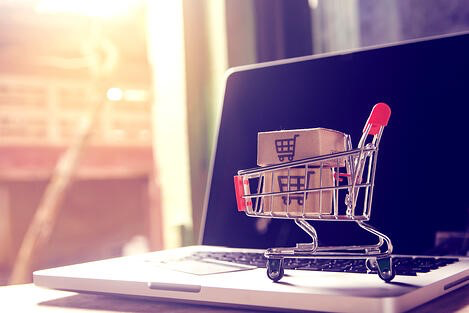 The Evolution of Retail: The Digital Customer Experience and Contact Center as a Service (CCaaS)
---
This blog was contributed by TBI Tech Guru, John Romeo. An accomplished Solution Architect and US Patent holder, John brings over 24 years of product management, technical sales and design experience, working with Fortune 100 companies to provide Unified Communications and Contact Center solutions for business continuity and improve business processes. You can reach John at jromeo@tbicom.com or connect on LinkedIn.
We are in a new and different world. It happened overnight, and no one could have predicted it.
Just several weeks ago, we had a choice. If we needed essentials, we could immediately walk into a brick and mortar store to get what we wanted, or we could go online to make the same purchase. Today, we suddenly find ourselves in a world that quickly evolved from traditional brick and mortar stores to essentially one of virtual reality. With both major retail chains and local businesses shutting down overnight, we have been forced into a world of uncertainty and have become even more reliant on online retailers to get us the goods and services we need
Despite the increased demand on online retailers, customers still want their products instantly; they want them shipped fast and demand alternate channels beyond traditional voice for communication. Suddenly businesses are in a paradigm shift from staffing retail stores to instead staffing contact centers, and with the further challenge brought by COVID-19, we are now adjusting to our agents also working remotely.
With the closure of physical stores, retail businesses are realizing that if they want to survive, all of their eggs are now sitting in their contact centers. Contact centers are not a cost center anymore; instead, the contact center has become the sole revenue generation center for retail businesses.
Virtually overnight, these retailers are being forced to evolve from their old and often inefficient ways of doing business to an improved digital customer experience. Being fully digital is a major differentiator – a complete omnichannel with mobile apps, automation and productivity tools to enhance the customer experience, leading to happy customers and repeat business.
It is a newly expanded world of online retail competition. In order to compete and survive, it is critical for retailers to create a superior customer journey to stay relevant and valuable. For example, when a customer finds a product that they are interested in on a website, then opens a chat, the voice channel MUST be open if they choose to escalate the journey to the next step. To maintain a successful customer journey, it is crucial for the agent to be aware of what happened prior to them taking the call. Data analytics are also extremely helpful and can be used to capture key data points throughout a customer's journey and provide a truly personalized experience for each shopper.
The introduction of automation and productivity tools bring tremendous business and technical benefits to CCaaS offerings. The digital customer experience provides a richer connection by extending the ways to contact an agent beyond just voice. Omnichannel communication introduces chat, email, SMS and social media channels for customers to connect to agents. These tools reduce cost, enhance efficiencies, and drive better communication.
In the past, customers have viewed contact centers as an expense; today, they are relying on contact centers to drive efficiencies, improve customer satisfaction and reduce costs. Clients are also interested in eliminating up-front costs by moving from a CapEx model of premise-based contact centers (with expensive licensing & maintenance) to an OpEx model of hosted, dedicated and cloud platforms that offer advanced features, functionality and flexibility. Data analytics are also changing trends in contact centers by capturing critical customer information and providing useful statistics to decrease inefficiencies and drive revenue, through lower average handling time, quicker call resolution and increased sales.
Another component of the digital customer experience could include artificial intelligence (AI) tools such as chatbots and virtual agents with the ability to communicate with customers via SMS. Both chatbots and virtual agents can complete simple tasks effectively and cost about 1/10th of a human agent, thus bringing quantifiable efficiencies into the business. SMS communications can offer features especially useful to retail businesses like package delivery updates and customer satisfaction surveys.
Again, it's important to understand the differences between different communication channels and their role in a complete and enjoyable customer experience. Contact centers can provide, as part of an automated tool package, an even more enhanced customer experience by using speech recognition and/or voice biometrics for simpler authentication, as well as natural language capabilities as part of these self-service tools. (e.g. retail package tracking).These tools play a key role in the digital customer experience that should be deployed, managed and supported as part of a complete end-to-end customer solution and are offered by many suppliers with an end-to-end SLA included.
Today's contact centers are built on a cloud infrastructure that resides in a service provider's data center; they are easily implemented – essentially on-demand. In the past, contact centers were deployed on-site, including hardware, phones, routers, etc. Today's contact centers have all of these components already built into the software; all the on-site infrastructure that used to be deployed in the past is already built in the cloud, with businesses simply configured as tenants. The solution provider owns, maintains, and is responsible for every aspect of the solution, including all upgrades and new features as they come available. In turn, businesses benefit by not needing IT staff on payroll to maintain, operate and upgrade the infrastructure, allowing them to focus on other, more business-critical projects.
Some key questions to assess your CCaaS needs:
How many of your agents today are working in brick and mortar buildings vs. remotely?
Where are your agents located? What countries and how many per country?
Is your network infrastructure 100% ready to handle 100% of your agents working remotely?
If no or unsure, a bandwidth assessment must be performed.
Do your agents need to retain handsets, only use a softphone, or use both?
Is seasonality a concern? Would you like the ability to scale your agents up and scale down based on seasonal demand?
What level of support do you need from the CCaaS vendor during the COVID-19 pandemic?
What will be important to you after a remote CCaaS implementation?
Do you anticipate any agents remaining remote after COVID-19 has dissipated or is this only temporary?
Want to learn more about CCaaS? Download our free ebook It's the Customer Experience Era.