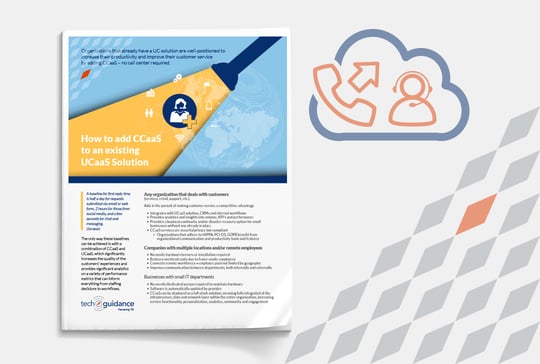 Adding CCaaS to UCaaS: Building on a Great Foundation
---
Although unified communications (UC) systems and contact center solutions have previously been thought of as separate entities, cloud technology has increasingly facilitated collaboration between the two. Cloud has removed restrictions of on-prem hardware which enables the contact center solution's remarkable versatility and fluidity - both crucial strengths required to provide the increasingly personalized and convenient services demanded by customers in the digital age.  
CCaaS solutions are gradually being recognized as valuable tools to help modern businesses provide exceptional customer service, as evidenced by the CCaaS market's expected rise to an estimated $16 billion by 2021.  Any organization that prioritizes customer experience should be taking advantage of CCaaS functionality to improve customer engagement and satisfaction.
For organizations that currently have a UCaaS solution in place, augmenting with a CCaaS solution (an actual contact center is NOT required!) can substantially increase the benefits of both solutions, increasing productivity and improving customers' overall experience. UCaaS is able to integrate different mediums of communication into a single focal point accessible by any department, eliminating dialogue gaps.
CCaaS functionality, like intelligent routing and CRM sync, make it so customers can transition between departments without changing their mode of contact or initiating interactions more than once, and various employees are able access any relevant data before being connected with a customer. Customers themselves have grown to expect brand experiences that are both effortless as well as seamless—no matter the location, time or touchpoint. Unfortunately, 84% of customers report being dissatisfied with their contact center experiences, so there is definitely plenty of room for improvement across a broad range of verticals and business types.
A baseline for first reply time is half a day for requests submitted via email or web form, 2 hours for those from social media, and a few seconds for chat and messaging. (Zendesk)
The only way these baselines can be achieved is with a combination of CCaaS and UCaaS, which significantly increases the quality of the customers' experiences and provides significant analytics on a variety of performance metrics that can inform everything from staffing decisions to workflows.
For tips on what to look for when adding CCaaS into an organization that already has a UC solution, download this one-sheet guide to help you get started.
Read more about CCaaS here.